by Chris­t­ian Raun
Just get start­ed, there is no com­pre­hen­sive "do-you-for-you-get-one-per­fect-result" guide to mod­el­ing fig­ures — there is only the good old test-ahead method.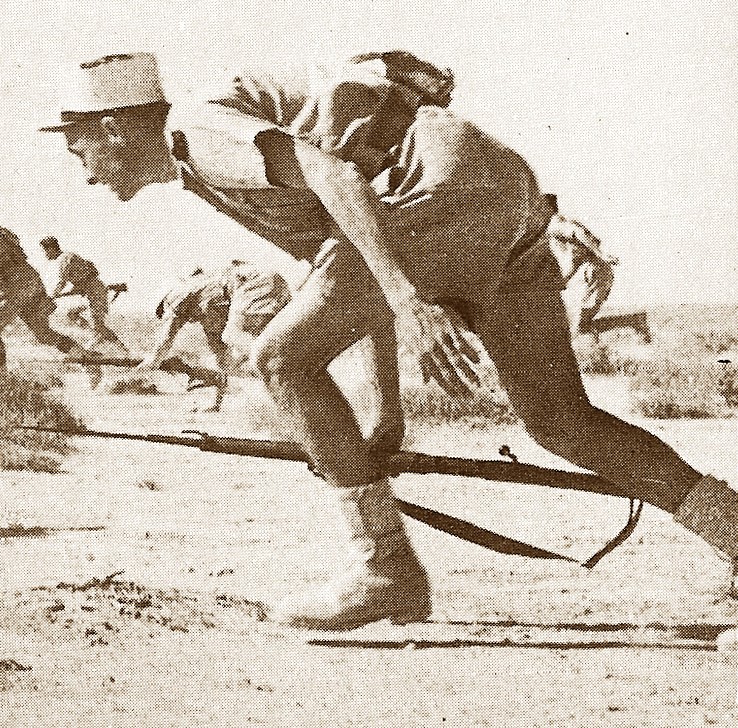 You may not be Michelan­ge­lo — on day one — but it is very sat­is­fy­ing just to be able to change things, and soon the desire to make his own fig­ure or loose part comes from the ground up, and maybe mold it subsequently.
In fact, one can see on the net that it is an ever-grow­ing hob­by itself to cre­ate char­ac­ters in all pos­si­ble and impos­si­ble sizes. And if you look more close­ly at the names that mod­el mil­i­tary mod­el fig­ures, you soon dis­cov­er that most of the big names are self-taught. So just get started!

"Dol­ly"
The most impor­tant thing is actu­al­ly to be able to keep a scale and get the right body pro­por­tions, whether in 54 or for exam­ple. 28 mm, then it is "just" a larg­er patient pill and nose work as a mod­el. At least as much is exer­cise as artis­tic abilities.
A work draw­ing is impor­tant so you have some­thing to assume. It should in no way be "art", but sim­ply state posi­tion and details. Pen­te­costals on the right scale, so that you have some­thing to mea­sure on, are excel­lent. Details can be tak­en from books with uni­forms and weapons.
You can work from a pur­chased so-called "Dol­ly".
One has pre­vi­ous­ly been shown in the Chakoten, so the pro­por­tions are in order at least. And you can use oth­er parts made pro­fes­sion­al­ly, if you do not imme­di­ate­ly throw your­self in the face, hands, weapons etc.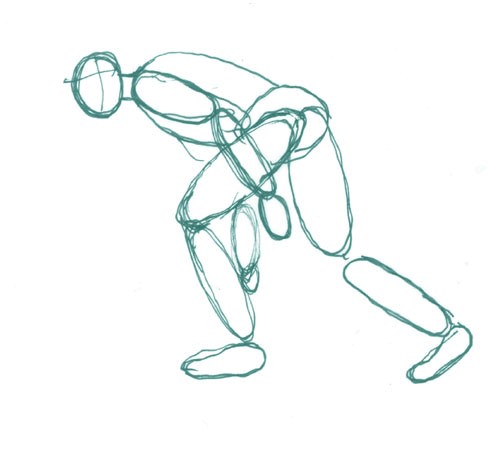 Or you can make your own "Dol­ly" of a lit­tle steel wire, a clip or the like.
Impor­tant is here pro­por­tions and straight bends in the joints. The ends of the steel wire can be insert­ed into a cork plug (can be pur­chased in any size in shops sell­ing for home and wine mak­ers), so you can eas­i­ly han­dle and rotate the fig­ure with­out touch­ing it.
There are no rules for how to do it, every­thing is allowed. Rough­ly speak­ing, you start with legs, then upper body. The head first, as oth­er­wise it will eas­i­ly become too big. Arms can be wait­ed for, until the body is fin­ished, so it is eas­i­er to get details in place that are oth­er­wise cov­ered by arms. Weapons are made loose (or tak­en from oth­er mod­el / pur­chased loose­ly) and placed gradually.
What does one need?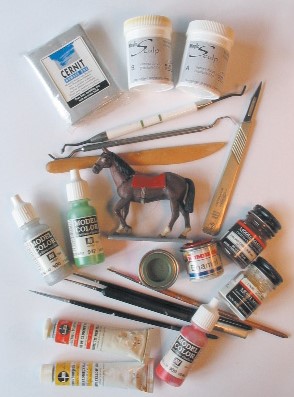 First and fore­most, the plas­tic mass that you mod­el with, in addi­tion var­i­ous small tools and so patience as well as some exer­cise. Strange­ly enough, it seems eas­i­er to make a sculp­ture than to draw free­hand! But that's how it is now
Plas­tic Types
Here are two types:
The self-hard­en­ing and the type to be cured at low heat in an oven.
Self-hard­en­ing
Here it is pri­mar­i­ly mate­ri­als like Mil­liput and Knea­datite, the lat­ter also called "Green Stuff." You can search the web for "Green Stuff" or go to www.Sylmasta.com and find the dif­fer­ent types, as the mate­ri­als are in dif­fer­ent hard­ness and fine­ness. The whole thing can be mixed so that you uti­lize the dif­fer­ent prop­er­ties in the best pos­si­ble way and at will.
Most things can also be bought at home — oth­er­wise it will come! If you just want to try a small blob of Green Stuff, it can be bought where you sell Games Work­shop arti­cles. The price here is 50, — DKK, quite pow­er­ful as for all this com­pa­ny's prod­ucts, but if you only want to try then it is excel­lent. The same place also offers a small set of tools that cov­er all basic needs. Var­i­ous tools designed to work in clay from art and paint shops can also be use­ful. But every­thing in an ordi­nary house­hold (tooth­picks, straws, nails in a plug or in a dol­lop Mil­liput, steel wire filet and ham­mered in shape and put in a plug etc.) can be used, and you can even make your own small tools with dif­fer­ent heads of all shapes. What to use depends sole­ly on one's work­ing method and the effect one wants to achieve. But­tons and riv­ets can be made with a hol­low tube of the desired size, and sim­ply pressed into the mass, after which you scrape the remain­ing "stuff" work.
Not self-hard­en­ing
This is known, among oth­er things. like Fimo, a kind of patch used for many oth­er hob­by pur­pos­es. The advan­tage here is that you are not lim­it­ed in time, as the fab­ric remains mal­leable until it has been a walk in the oven at low heat (not above 130 degrees!). If you are dis­sat­is­fied, you can curl up and start over. But oth­er­wise it can be treat­ed as the self-cur­ing sub­stances. Used main­ly in France and here on the con­ti­nent, while the Eng­lish-speak­ing world swears to "Green Stuff" and the like. Fimo can e.g. pur­chased from Pan­duro Hobby.
Green Stuff
This is a sticky mass made from a blue and a yel­low sub­stance which must be well mixed, after which the mass becomes green. You can change the ratio between yel­low and blue at will and thus get a mass with dif­fer­ent prop­er­ties, the more blue, the hard­er the mass. And as men­tioned, you can mix with Mil­liput of dif­fer­ent fine­ness and hard­ness (about 30–40% Mil­liput and the rest Green Stuff is a good and cheap mix for not the finest details or things that should not be able to give them­selves as much as pure Green Stuff Ani­mal ears, for exam­ple) or Brown Stuff, in which there is alu­minum dust, which gives a par­tic­u­lar­ly hard mass after solid­i­fi­ca­tion. The lat­ter must be par­tic­u­lar­ly good at mak­ing sharp edges on e.g. weapons, like saberblades.
The mass should be as fresh as pos­si­ble, oth­er­wise the mate­ri­als lose their adhe­sive­ness and are rather use­less, so you also do not have to make too big a lump at a time. Green Stuff is actu­al­ly very expen­sive in terms of quantity.
To pre­serve the fresh­ness, store the unmixed rib­bons in a plas­tic bag in the freez­er. You can also get the yel­low and blue in "tubes" so that they do not chem­i­cal­ly affect each other.
When work­ing with the mate­r­i­al, it adheres to every­thing at first (prefer­ably), but avoids stick­ing where it should, by keep­ing tools and fin­gers wet, some using oils and fats or just water, but actu­al­ly some­thing is of the best a sali­va in eg. a beer cap­sule. Lick­ing the tools and fin­gers is not rec­om­mend­ed as the mate­r­i­al is high­ly toxic!
You now "stick" a lit­tle on its "Dol­ly" met­al skele­ton, pos­si­bly. you can lubri­cate it with a lit­tle join­ery glue first.
(You can also use the cheap­er "stuff", intend­ed for plumbers and light­ning dry­ers, to lay the foun­da­tion. Fast and cheap.)
Ini­tial­ly, you should not lubri­cate the "joints", at least if you work with steel wire. Then you can still bend to your lik­ing and achieve more sharp bends as they real­ly are.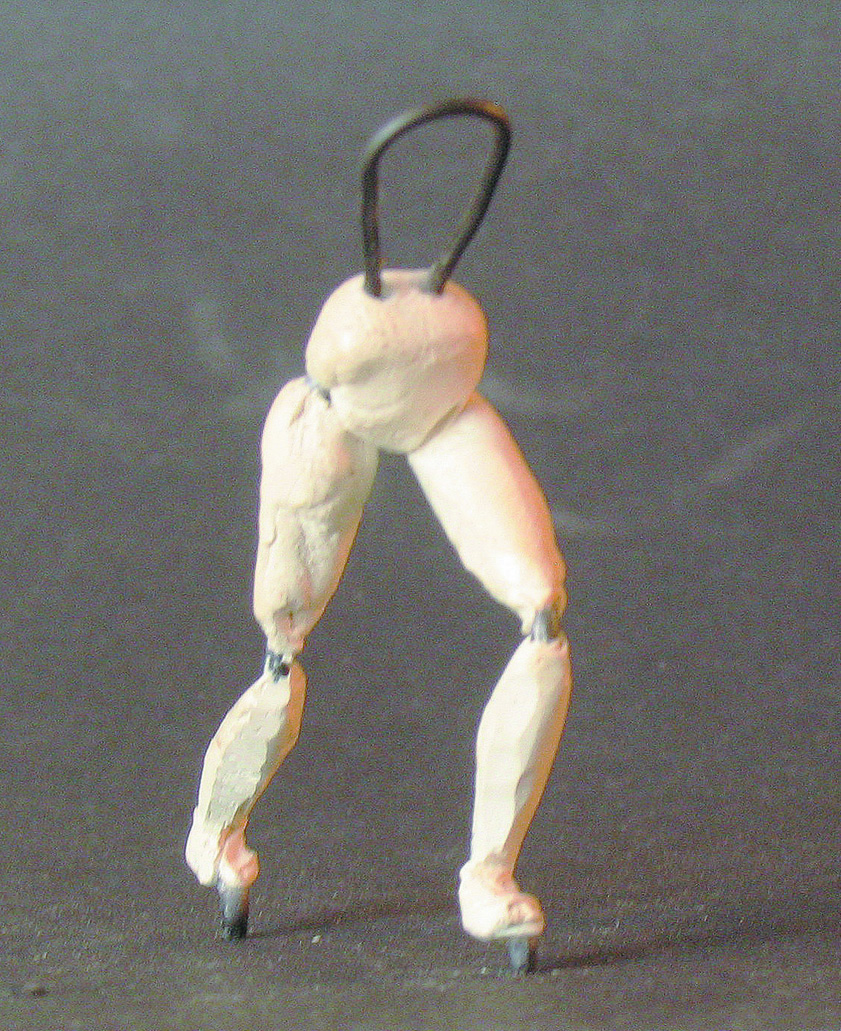 Once the pulp has solid­i­fied, one can work on lay­ers on lay­ers, which each time have to dry com­plete­ly. It is there­fore use­ful to have sev­er­al char­ac­ters run­ning at the same time. You can speed up the solid­i­fi­ca­tion by plac­ing the fig­ure under a lit lamp. Some make spe­cial arrange­ments with a bulb under a small container.
You just have to get used to the fact that you can "push" around with the mass and that when it is com­plete­ly fresh, it bulges out else­where. Almost like work­ing in chew­ing gum. But slow­ly the pulp solid­i­fies and changes char­ac­ter, which is then exploit­ed in var­i­ous ways.
To get a smooth sur­face, water / oil is used on the imple­ment, and there is a par­tic­u­lar­ly smooth (actu­al­ly intend­ed for clay work) with var­i­ous rub­ber / plas­tic tips that are par­tic­u­lar­ly useful.
Once the pulp has solid­i­fied, you can file, cut, saw and drill in it. In the hard mass­es more than in the soft, like Green Stuff, where it can be dif­fi­cult to make com­plete­ly sharp edges.
Details and e.g. Tabs can be made sep­a­rate­ly on a piece of plas­tic with a thin film / lay­er of oil so that it can eas­i­ly be lift­ed off when it is found that it has solid­i­fied suf­fi­cient­ly. You can thus make paper-thin sur­faces, by tak­ing a piece of film, putting on a cloth Green Stuff, fold­ing and rolling over with some­thing heavy until you reach the desired thickness.
You can make your own small molds, lubri­cate with a lit­tle oil and mash Green Stuff and let it solid­i­fy. The oil must be washed off in sul­fo or with the good old cel­lu­losic foamer, which, how­ev­er, is said to be dan­ger­ous for brain cells, with­out com­plete­ly remem­ber­ing why! Fra­grances wonderful.
If you want to "stick" some­thing on the solid­i­fied Green Stuff, you can advan­ta­geous­ly clean with a lit­tle alco­hol or cut a thin lay­er off, then it is eas­i­er to attach because you then remove any. fin­ger grease. You can also drill small hole and lubri­cate some fresh Green Stuff in as glue.
If some­thing is unsuc­cess­ful, you can just cut it off and start over.
One should not touch a non-solid­i­fied fig­ure, so it shifts it all or you get at least one splen­did fingerprint.
For lances and sim­i­lar rods, brass wire is used.
Sabels and saber chains are made over a small piece of thin steel wire, so it keeps the shape better.
Every­thing can be done in this way, only the imag­i­na­tion — and stub­born­ness — sets limits.
On the web there are lots of pages with tips, and peo­ple show on their own web­sites their cre­ations, which are often of a very high stan­dard and can give inspi­ra­tion as well as tips.