Liv­ing His­to­ry by Alek­sander Haug: 10/03–2019
What is live sto­ry shar­ing? In Den­mark, the con­cept is linked to the con­cept of reen­act­ment, which is tak­en from the Anglo-Sax­on world. As sev­er­al of the Soci­ety's mem­bers par­tic­i­pate in one or more dis­sem­i­na­tion or reen­act­ment groups, these will be pre­sent­ed in this sec­tion on live his­to­ry com­mu­ni­ca­tion. But war games can also be tak­en into account, as a form of liv­ing his­to­ry dis­sem­i­na­tion, where the dis­sem­i­na­tion takes place through the restora­tion of clas­sic bat­tles with fig­ures where one can both live the orig­i­nal bat­tle but also test "what-now-whose scenarios".
In the fol­low­ing, reen­act­ment and liv­ing his­to­ry dis­sem­i­na­tion will be referred to as syn­onyms for the same, although there is a live­ly debate about exact­ly what liv­ing his­to­ry dis­sem­i­na­tion and reenac­ment real­ly is. There­fore, there is still great con­cep­tu­al con­fu­sion, and since the fol­low­ing will serve as a gen­er­al intro­duc­tion to what is the life-like his­to­ry dis­sem­i­na­tion of a size, the ongo­ing dis­cus­sion will be over­looked in favor of a broad­er and smoother review.
What does it mean to make live sto­ry-shar­ing? There will prob­a­bly be at least as many respons­es as there are asso­ci­a­tions, muse­ums and groups work­ing on it. The con­cept cov­ers a wide range of relat­ed activ­i­ties. From Viking games, over medieval mar­kets, large bet­ting scenes at tai­lor-made events, small­er pri­vate events and ded­i­cat­ed muse­um com­mu­ni­ca­tion (Den Gam­le By, Andean Vil­lage Nyvang, Medieval Cen­ters at Nykøbing Fal­ster, Lejre and oth­ers). In all sim­plic­i­ty, liv­ing his­to­ry dis­sem­i­na­tion is about restor­ing, imi­tat­ing or oth­er­wise con­vey­ing a his­tor­i­cal epoch or event, dress­ing in peri­od cloth­ing and sur­round­ing with peri­od­i­cal or orig­i­nal 'props' and then re-estab­lish­ing a his­tor­i­cal day-to-day or his­tor­i­cal event with­in a lim­it­ed peri­od. The dis­sem­i­na­tion is often based on the avail­able lit­er­a­ture on and from the peri­od. When it comes to the hob­by groups, how­ev­er, it varies great­ly from arrange­ment to event, from group to group and from indi­vid­ual to indi­vid­ual how far you are will­ing to go. Some go all the way, and only use props that you would have had access to dur­ing the peri­od. It means straw at the bot­tom of the tent, car­pets instead of sleep­ing bags, nail-clad boots and up at sun­rise to Cap­tain Jes­persen's morn­ing gym. Oth­ers sleep in mod­ern sleep­ing bags, or break the illu­sion as soon as the audi­ence is out of the area, then switch to more com­fort­able footwear and its straight. It depends a lot on age, per­son­al cir­cum­stances and the under­ly­ing moti­va­tion to ven­ture into the activ­i­ty. But the rule of thumb is that the illu­sion is main­tained as long as there is an audience.
Liv­ing his­to­ry dis­sem­i­na­tion, in the form we know it today, has in par­tic­u­lar its roots in the Unit­ed States and the Unit­ed King­dom. Here, reen­act­ment has for many decades been a per­ma­nent com­po­nent of many large and small his­tor­i­cal events and anniver­saries. From major events with thou­sands of par­tic­i­pants, to more local events with just a few hun­dred. In the begin­ning, reen­act­ment was pri­mar­i­ly about restor­ing great famous bat­tles and show­ing "mil­i­tary life" (camp life, bar­racks, etc.) in world wars and con­flicts. Not all con­flicts have been equal­ly pop­u­lar, but for exam­ple, Water­loo has for many years con­sti­tut­ed one of the great events in Europe with sev­er­al hun­dred par­tic­i­pants in uni­form and many thou­sands of spec­ta­tors. Like­wise, sev­er­al of the cen­tral bat­tle­fields of the Amer­i­can Civ­il War have formed a back­drop for large recur­ring events. In recent years, how­ev­er, liv­ing his­to­ry dis­sem­i­na­tion has spread to many more epochs and angles. Past is the time when it almost exclu­sive­ly had a foot in the mil­i­tary his­to­ry, and sev­er­al asso­ci­a­tions with more civil­ian angles have suc­cess­ful­ly brought more peace­ful aspects of the every­day life of the his­tor­i­cal man. Such as crafts and agri­cul­ture and its equal. How­ev­er, liv­ing his­to­ry dis­sem­i­na­tion with a mil­i­tary angle remains the most dom­i­nant and pop­u­lar activ­i­ty among those who cul­ti­vate reenac­ment as a leisure activity.
How­ev­er, the activ­i­ty is not with­out its inher­ent prob­lems, and over the years, much crit­i­cism has been turned against the activ­i­ty. The cen­tral crit­i­cism goes on whether reen­act­ment as his­to­ry dis­sem­i­na­tion cre­ates a his­tor­i­cal real­i­ty that has nev­er exist­ed. The sharpest crit­ics will claim that liv­ing his­to­ry dis­sem­i­na­tion is mere­ly a total the­ater, and some will even claim that there is a def­i­nite beau­ti­fi­ca­tion and fic­tion­al­iza­tion of his­to­ry. The crit­i­cism cov­ers a heart­felt con­cern about the con­fu­sion of his­to­ry and free imag­i­na­tion. Accord­ing to the crit­ics, the indi­vid­ual actors have poor pre­req­ui­sites for famil­iar­iz­ing them­selves with the every­day life and choic­es that the his­tor­i­cal peo­ple they por­trayed. They are just not born and raised dur­ing the peri­od, and there­fore do not have the nec­es­sary cul­tur­al bal­last. The par­tic­i­pants may there­fore also fall to repro­duce stereo­typ­i­cal por­tray­als of the peo­ple of the past and their every­day life, which they have encoun­tered in films, tele­vi­sion series or fic­tion. When crit­i­cism is kept at a lev­el of lev­el, it can be quite jus­ti­fied. Some groups and indi­vid­u­als can be so gripped by the peri­od they are work­ing with that they try to rep­re­sent the peri­od they want or imag­ine it was. Thus, more dif­fi­cult issues and issues from a giv­en peri­od can be swept under the car­pet. An exam­ple of this is the recur­ring crit­i­cism of the pure­ly mil­i­tary reen­act­ment, where accu­sa­tions of glo­ri­fi­ca­tion and glo­ri­fi­ca­tion of the war itself have been pro­nounced. Accord­ing to the crit­ics, the actors just can't show the hor­ror of the war to the pub­lic, but often fall back on camp life and more peace­ful pursuits.
Does this mean that liv­ing his­to­ry dis­sem­i­na­tion is out? Far from. When done with care, and when the indi­vid­ual play­ers play with open cards to the pub­lic, it is an effec­tive form of com­mu­ni­ca­tion. Liv­ing his­to­ry dis­sem­i­na­tion grabs the indi­vid­ual guest or spec­ta­tor in a com­plete­ly dif­fer­ent way than more tra­di­tion­al forms of his­to­ry dis­sem­i­na­tion. The vis­i­tors sim­ply remem­ber bet­ter when they can feel, smell and feel the past on their own (Jensen 2015, p.130–33). But it is worth com­mu­ni­cat­ing all the time to con­sid­er what the indi­vid­ual guest takes with them from the events, and how to act as an actor to address a num­ber of the chal­lenges and lim­i­ta­tions reenac­ment that his­to­ry com­mu­ni­ca­tion inevitably includes.
Click on the pic­tures below for more infor­ma­tion on some of the groups that exist.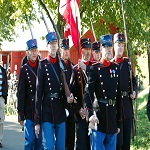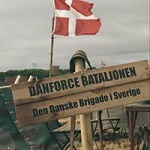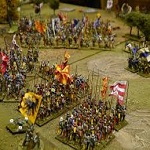 Amer­i­can Civ­il war Dan­ish Army 1914–18 The Dan­ish Brigade Wargames